All most all the Hindu houses in the Indian nation have the separate and traditional Pooja room. Where they tend to do their prayers to their gods, we InteriorDesk will construct modern Pooja room for each of our housing units. The Pooja room design will be in such way which will make the house owner feel like bring in devotional place.
Prayer unit/pooja unit design
Our designers well aware of the fact that, Pooja unit design should be in such form to create a sacred place environment that the house member's prayers should reach the god whom they adore. We always respect the house owners interest whether to place the simple Pooja unit integrated into the living room or at the dining room.
Where ever, house owner's shows interest in placing the Pooja unit we prefer to use woods for the creating Pooja rooms. Wooden Pooja room gives the feel of engaging with the spirituality also it is very humble in look and yet it looks completely elegant. In addition, our experts would capable of designing an elegant Pooja unit with the marble floor along by decorating the Pooja room doors with handing bells and idols.
Being a Bangalore based interior decorative firm we well aware of the mentality of people when it comes to devotion since Bangalore is the hub of multi-state people who tend to live because of the working nature. We capable of designing Indian Pooja unit designs for all community and all state people.
Pooja unit for apartment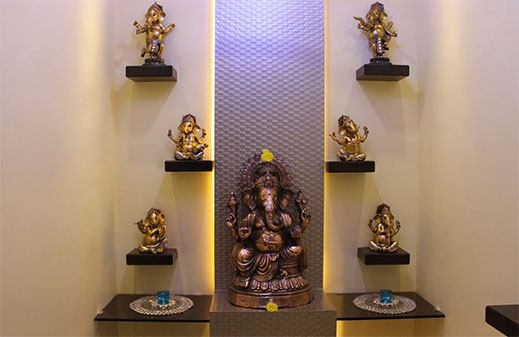 In the city of Bangalore, people live in the apartment where things always are condensed, our experts well aware of that fact and design the interiors accordingly. Our special designed Pooja room for an apartment is highly compact and it can be well adhered to the living room or to the dining room. In addition to that, we do provide Mantap Pooja rooms for people who look for small Pooja room designs for their home apartment.
With our Mandir store design, house owners of the apartment would feel highly compactable, since it will come along with the inbuilt storage cabinet where all the Pooja accessories will fit within it. When compared with all another interior decorative Prayer unit in Bangalore, we provide elegant and innovative designs to our customers.
Pooja unit for home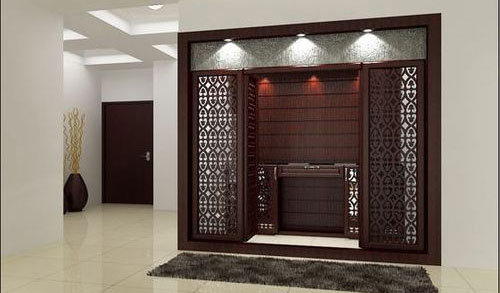 It doesn't matter, whether it's an individual home or apartment when it comes to Prayer unit India it should be in clear of clutter and ideal place for reflecting the spirituality. Our expert designers will ensure of placing Pooja unit with the soft limelight that will surely envelop the idols elegantly and creates a peaceful ambiance.
Apart from creating traditional Pooja room in the house, we InteriorDesk gives you the wide range of option on choosing the modern and unique Pooja room designs that give you the perfect platform for conducting your prayers at home.
Pooja unit designers in Bangalore
While searching Pooja unit online it would be wise to pick the highly reliable interior decorative firm, we InteriorDesk took the pride of satisfying all our customers. In the tech city of Bangalore, one can find lots of interior decorative companies offering various design Pooja unites; however, none of them would match with our innovative prayer unit designs which our experts offer. All the designs offered by our experts would be in the supreme end and designed with perfect calculations.
By visiting our official website you can pick our pre-designed Pooja room units according to your interest. Our site fully capable of shopping Prayer unit online, to know more about our service get in touch with our official via contact us page or by dialing to our official contact number.
How to get pooja unit online in Bangalore?
Being a technological hub, the city Bangalore is one of the hi-tech cities in the nation. Often people prefer online for their needs. We InteriorDesk one of the prime service providers when it comes to innovative interior decorative offers a wide range of interior designing ideas and our expert designers are capable of delivering all types of typical Indian Pooja unit designs in Bangalore.
The prayer unit design offered by our expert would be in such a way that no person can ignore it, we do provide Ombre wall, can seating and also a simple shelf Pooja unit for all types of house in order to make a perfect Pooja corner. Our experts provide a wide range of Pooja unit designs starting from small Pooja room designs to amazing Pooja room designs.
In order to find us in online, just by surfing InteriorDesk in Bangalore the search results would lead towards our homepage where you can find a lot of Pooja unit designs wall mount pictures, you can either pick any from those or you can design your own by consulting with our professional interior decorators.